Datalogic DLL2020 Diamond
Omni-Directional On-Counter Laser Scanner Sales Contact

Datalogic's offer is now enhanced with the new DLL2020-W Presentation Scanner, capable of improving any type of Point of Sale application. Considering the importance given to space at Point of Sale, the DLL2020-W was made very compact so it could fit practically anywhere. The advanced technology applied to this compact scanner provides major benefits in reading performance and guarantees the highest "First-Pass" decoding rate. When heavy or large items need to be scanned, the ergonomic design of the DLL2020-W means the scanner can easily be manually presented. It includes an integrated protective rubber boot, which protects the unit from shocks or drops that may occur during normal working conditions.

Features
Compactness
Integrated Protecting Sleeve
Connectivity to POS Systems
Very High First-Pass rate
Small footprint
High "First-Pass" rate
"Single line" mode
Shock resistant and Antiskid design
Flexible connectivity and easy to expand
High reliability
EAS optional kit
OLE for POS compliance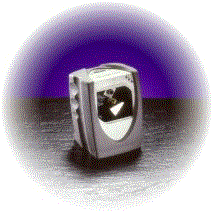 Using a high visible laser diode, the omni-directional scan field of the DLL2020-W generates a scan pattern of 16 lines, capable of 800 scans per second. Whenever data has been correctly read, the LED and adjustable tone beeper immediately communicate this to the operator. A configurable "sleep" mode is available to minimize power consumption when the unit is not working. The DLL2020-W "wakes-up" by simply pressing the button on the upper side of the device. The DLL2020-W can be connected to any kind of POS System through an efficient series of plug-in cables.

Its main features include compactness, flexibility, reliability and connectivity, making it a cost-effective investment that meets current and future Point of Sale requirements, maximizing customer service.
*Power supply available on pin 9 or 25 of the connector.
**CAB321 SH1738 (cod. 90A051140) also available for Notebook and IBM SureOne cable, minidin connector.