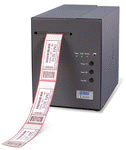 Datamax S-Class ST-3210 - label printer - B/W - direct thermal
The Datamax S-Class was defined to enable Datamax to apply engineering expertise and experience to a specific niche industry. To this end Datamax targeted the admissions ticketing market with the first family of S-Class printers. The ST-3210 is a 203 dpi version of the tabletop model. The S-Class is an excellent printer for new box office installations as well as for add-on to or replacement of older, difficult to maintain products. Datamax has worked with a number of ticketing solutions providers to certify the S-Class for use with leading software products.
The Datamax S-Class family of ticket and tag printers has been upgraded with increased memory and
processing power, bi-directional parallel port, USB port, and are now RoHS compliant. The ST-3210
includes the most requested features in a tabletop ticket printer: up to 10 ips print speed, adjustable ticket
width guides, user selectable firmware-resident printer languages, self-loading print head mechanism,
easy access print head for cleaning, and rugged metal cabinet.

Adding 300 dpi print resolution to the ST-3210 results in the ST-3306. In addition to all of the industry
standard linear bar codes, the S-Class can also print complex two dimensional (2D) bar code
symbologies including PDF417 and Datamatrix. As more and more ticketing venues incorporate the
security of 2D-symbology usage, they will find that the ST-3306 is the ticket printer of choice with its
high-resolution graphics and 300-dpi bar code printing capability.

The need for computerized ticketing to automate the admissions process has expanded to include a
variety of ticketing applications. These emerging markets include E-commerce and secondary schools
and universities, all requiring a less expensive overall admissions system. Use of the Internet along with
a reasonably priced ticket printer allows the market to expand to these smaller venues. The use of an on demand ticket printer ensures accuracy and reduces the opportunity for fraud and waste associated with
preprinted tickets. Because tickets are valuable, the printer must be very easy to use, simple to load, and
simple to maintain.
A growing number of admission systems and ticketing software companies have already certified the Datamax S-Class for use with their products. From theme parks to movie theaters, from symphony halls to professional sports arenas, the Datamax S-Class is an excellent ticket printing solution designed to keep your business in business, while saving you money.
Ideal for:
Stadium Events
Parking Facilities
Loyalty Programs
Live Events
Ski Resorts
Coupons
Theater Venues