Quick Check 800 Series Verifiers from Honeywell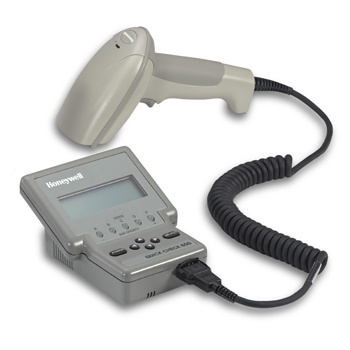 Easy to Use, Space-Saving Verifiers Meet the Broadest Range of Bar Code
Testing Requirements

Bar code reproduction accuracy is critical throughout the distribution supply chain, especially in an era of stringent compliance programs. PSC QUICK CHECK® desktop bar code verifiers assure that you produce, receive, and use bar codes that meet these tough requirements. The QC800 verifier analyze bar code quality against traditional quality parameters and ANSI X3.182/CEN EN1635 bar code print quality guidelines. Each unit includes all standard symbologies and is manufactured and traceable to N.I.S.T. standards developed by the U.C.C. (Uniform Code Council) and AIM (Automatic Identification Manufacturers).

Choose the Verifier that Best Meets Your Verification Needs

Not all bar code verification applications require analysis of the same parameters, so PSC offers a variety of models to meet specific needs. The QC800 Series tests traditional and full ANSI/CEN parameters. These models perform quick pass/fail tests or use more powerful measuring methods for a more detailed analysis.
Test results are provided through: a 4 line by 20 character LCD, light emitting diodes and audible tones. The unit is also RS232 compatible and works with Scanalyst(tm), a powerful Windows® based verification software package. The QC800 Series Laser Bar Code Verifier offers the convenience of simple aim-and-shoot verification through the use of a handheld laser bar code reader.
Quickly perform pass/fail testing of dimensional and format quality parameters like: average bar deviation, wide-to-narrow ratios, encodation, ANSI/CEN decodability and more. By using optional mouse and pen style wands, the following tests can be performed: Full traditional and ANSI/CEN dimensional, reflectance and format tests.
Command Code Programming

QUICK CHECK® verifiers are easy to use, yet packed with high performance features that utilize the most sophisticated test methods. Every model can be instantly programmed to test specific bar code specifications by simply scanning command codes or by using the easy-to-follow programming menu which guides an operator through each step.

Interchangeable Input Devices

To accomodate varying label densities, interchangeable mouse and pen wands are available with a user-selected aperture: in mouse wands choose from: 3, 5, 6, 10, and 20 mil sizes in pen wands choose from: 5, 6, and 10 mil sizes. These wands can be used with the 600 or 800 Series verifiers to make any bar code verification process more flexible and efficient.

Optional Printers and Download Features to Output Results

If needed, a detailed hard copy printout can be produced from any of the QUICK CHECK® desktop models using an optional QUICK CHECK® printer. Or, results can be downloaded to a PC via an RS232 communication interface. And each verifier is powered by AA NiCad rechargeable batteries and an AC charger.
Key Benefits
Special reflectometer mode
"X" dimension determination
Data buffer (code content dependent)
Single Scan To Result (SSTR) menu
Command code programming
ANSI/CEN scan profile test method
Instant "On-Screen" ANSI/CEN grade
ANSI/CEN 10-scan grade averaging
---
Quick Check PC600 Bar Code Verifier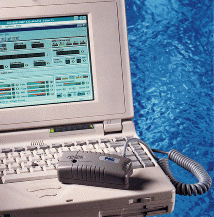 Bar Code Verification for your Desktop or Laptop PC

The QUICK CHECK® PC600 Verifier is a professional, quality control tool for verifying the readability and standards compliance of printed bar codes. It consists of a Windows® based software package and "mouse" wand or pen wand bar code optical sensing device and an interface which connects to the serial port of an IBM compatible desktop or laptop PC. printing, receiving or using bar codes in manufacturing or distribution applications, the QUICK CHECK® PC600 Verifier provides quick and easy-to-view full ANSI/CEN EN1635 test parameter analysis and traditional Pass/Fail parameters. QCPC600 is manufactured and traceable to N.I.S.T. standards as fabricated by the U.C.C. (Uniform Code Council) and AIM (Automatic Identification Manufacturer).

Easy-To-Use Input Devices to Add Efficiency in Any Verification Environment Input is provided by an interchangeable "mouse" wand or pen wand which is compatible with QUICK CHECK® 600 or 800 Series Desktop Verifiers. To accommodate varying label densities, just select the appropriate aperture: in mouse wands choose from: 3, 5, 6, 10, and 20 mil sizes in pen wands choose from: 5, 6, and 10 mil sizes unit decodes and verifies character format for: Code 39, Interleaved 2 of 5, U.P.C. & EAN, Codabar, Code 128, Telepen, and UCC/EAN 128. and delivers information about the critical optical characteristics of bar codes including:
All ANSI/CEN EN1635 bar code print quality parameters
All traditional bar code print quality parameters
To simplify the learning process, context sensitive "Help" screens assist a user through each step of the verification process and ANSI/CEN EN1635 definitions. Test Results Provided Immediately on Your PC's Display Because the QUICK CHECK® PC600 Verifier operates on your PC, it offers many advantages not available from stand alone units. Bar code quality information is displayed directly on your computer monitor and hard copy output can be produced on any local or network printer. Automatic ANSI/CEN symbol grade calculation provides instant bar code quality feedback and easy-to-follow menus guide the user through the entire process to provide more detailed results such as scan reflectance profiles with highlighted defect, decodability and minimum edge contrast. Once obtained, test results can even be shared with other Windows® applications or stored for later retrieval. The QUICK CHECK® PC600 Verifier...all the power and flexibility you need to ensure strict bar code standards compliance.
Key Benefits
"Unrecognized symbols" mode to evaluate the hardest to read bar codes
Fully functional "reflectometer" mode
Display and printability of bar/space element histogram with element width averages and ranges
Parsing of UCC/EAN message with application identifiers described
---
Copyright ©1997-2009 Data Identification Systems All Rights Reserved