Datamax I 4208 Printer
Datamax Corporation has announced the introduction of its DMX I4208 thermal printer, a new offering in the Company's 2001 Class product line. The I-4208 prints at 8 ips, a 33 percent increase in speed over its parent printer and houses a revolving media supply hub, either 1.5" or 3" as a standard feature. Updated firmware makes this product the fastest in its class when using popular label design software packages, or Windows®-based graphics packages.
"The enhancements we've made to the new printer make this an outstanding value -- our customers are essentially getting a more powerful product with the 4208," stated Bill Nix, senior vice president, sales and marketing at Datamax. "Additionally, when compared along side competitive printers in the same class, the 4208 excels in every aspect of value, performance and speed."
Available in direct thermal and thermal transfer configurations, the DMX-I-4208 is capable of producing a 203-dpi, four-inch wide image at 8 inches per second and supports all popular linear and two-dimensional bar code symbologies. The system features a 32-bit Motorola Coldfire™ processor and revamped firmware, eight MB of addressable RAM, and an IEEE 1284-compliant parallel interface that supports both bi-directional parallel and Ethernet connections.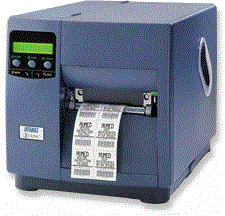 As with the previous I-Class products, the I-4208 is constructed of precision die-cast aluminum, and incorporates a modular design that greatly simplifies operation, maintenance, and upgrades. To simplify the addition or removal of components, uniform screws are used throughout the printer. Additionally, the DMX-I-4208 incorporates a variety of user-friendly features including color-coded operator prompts, a wide-access printhead for easy media loading and printhead cleaning, and a front-panel multi-language LCD that simplifies printer set-up and configuration.

A new class of price-performance

The DMX I4208 is designed for a wide variety of industrial applications, including:
asset tracking
documentation management
inventory control
order entry
product identification
shipping and receiving
and point-of-sale