How to Select Labels / Tags / Ribbons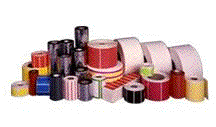 Introduction

This section is designed to help you select the correct media and ribbon combination for your labeling application. The first step in choosing media is defining the requirements of your application. Follow the steps and answer the questions below to determine your label or tag needs.

How to select label/tag print method

This breaks down into two choices: Do you want someone to print your labels for you off-site or do you want to print them in-house? There are reasons for both.
Imprinted by off-site vendor: Companies select this when they need to print large quantities of the same label or when they do not want the additional task of printing their labels in-house.
On-site printing: Companies choose this method when they can justify purchasing a label or tag printer to print their materials in-house. This offers them great flexibility and makes them less reliant on their vendors. Customers who print on-site must decide if they want their media printed with direct thermal or thermal transfer technology.
How to determine special label requirements

Do you have any special requirements you need to address with this label or tag?
For example:
Do you want multicolored labels: logos, background, floodcoat, colored artwork, etc.?
Do you require a tamper-evident or destructible label material for your application?
Does your label need to withstand harsh environments: moisture, humidity, chemicals, oils, abrasion, UV light, etc.?
How to select between labels and tags

Labels: Labels will be printed and applied to your product, case, carton, or pallet utilizing the adhesive on the back of the label.
Tags: Tags can be printed but must be attached to your product by means other than an adhesive backing. Tags are often hole-punched to be attached with a wire or plastic tie-wrap, or they are stapled directly to the product.
Once you have decided whether to use labels or tags, you can select the appropriate material for your application. Keep in mind the special requirements you have listed above. Depending on these requirements, you will choose between paper or synthetic materials.
How to select the right label

What will the label be applied to? There are several factors to consider under this category.
What is the substrate: corrugated cartons, plastic, metal, packaging films, wood products, glass, etc.?
What is the surface of the substrate like: smooth, rough, grooved, dirty, recycled material, curved, etc.?
How long does it need to last - How long will you store it before use?
Is it perishable - Does it sit in your warehouse for an extended period of time?
How to select adhesive

There are several factors to consider when selecting the proper adhesive.
Should the adhesive be permanent, removable or repositionable? If the label needs to be removed from its substrate, how long will the label be applied before it is removed?
At what temperature will the label be applied? If the label is applied in a freezer, the adhesive will perform differently than if it is applied at a temperature of 65 degrees.
What is the temperature range the label must withstand throughout its entire life?
Direct Thermal vs. Thermal Transfer

Direct thermal media is similar to fax paper. It is chemically treated to produce an image on the label when heat is applied from the printhead. It is an economical technique to produce labels that are not exposed to harsh environmental elements or frequent contact scanning. Also, direct thermal is not recommended if you expect to use your labels past six months.
For resistance to harsh environments, frequent scanning, and graphics appeal, the combination of film ribbon and media (Thermal Transfer) is the solution. With this technique, the printhead bonds wax or resin from the film ribbon into the surface of the media to form an image. Our label department can help you select the exact combination of film ribbon and media to meet your specific enterprise's needs.
How to match ribbon (If you are utilizing thermal transfer technology)

When you have decided on the proper media material for your application, you need to match a thermal transfer ribbon to your label stock (if you are utilizing thermal transfer technology). In most cases, you will choose between the following ribbon formulations:
Wax: general-purpose ribbon designed to provide superior print quality, using a customized backcoating for reduced friction and increased printhead life. (For use mainly with paper applications).
Wax/Resin: Designed for more demanding smudge resistant applications. (For use with durable paper applications and lower-end synthetic applications)
Resin: Specially formulated for applications requiring a high degree of smear and scratch resistance. (For use mainly with synthetic materials)
At Data ID Systems, we have been providing bar coding and labeling solutions to our customers since 1981. Our customer-focused philosophy is to thoroughly understand your needs and provide you with the best product for your application.
Please fill out the following form and we will be pleased to help you. That includes a quotation, specifications and samples of the material. All the information you may need to place an order.
Credit card orders gladly are accepted!
Copyright ©1997-2002Data Identification Systems All Rights Reserved

Last modified: June 11, 2003