Imager OCRsl

Single Line OCR Software for Digital Cameras
Overview
Imager OCRsl is OCR (Optical Character Recognition) software designed specifically to enable digital cameras to read a single line of characters and bar codes. Manufacturers of hand held digital cameras for data collection purposes have cooperated with Caere to accommodate the integration of Imager OCRsl software. Imager OCRsl operates on the camera's built-in 32-bit processor. Caere compliant digital cameras have a variety of optics, aiming, and light sources to handle diverse applications. Imager OCRsl also includes a special version of the Caere wedge that can interface the camera's output to nearly any PC or terminal and can be programmed to fit the OCR output to any database screen.
Features
Automatically finds character string in center of field of view
Programmable font:
OCR-A:
OCR-B:
E-13B (MICR):

Special fonts available, request for quotation
Reads from 6 to 300 points
Keyboard wedge performs data editing to first validate input, then format output to fit virtually any application:
Over 450 computers and terminals supported.

Preamble, Postamble

Intermessage Delay

Intercharacter Delay

Data Suppression

Data Insertion

Input Field Validation

Character Move

Character Translate

Type Code Change

Start/Stop Instruction

Output Formatting

On-screen Programming

Field Accumulation

Check Digit Verify

Custom Multiplier

Audible/Visual Alert

Cursor Move

Many, many, more.
Automatic three-dimensional de-skew

Lens and lighting options on cameras support a wide range of applications such as reading very large or very small markings
OCR Advantages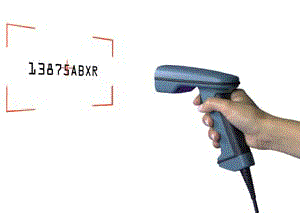 Allows automated scanning of human readable labels
OCR takes less space than standard resolution bar codeencoding
No high-resolution bar code printers needed to make labels
Less obtrusive on product or promotional pieces than barcode
Existing printing processes can often be used
Existing labels can often be used
Information from damaged labels can often be recovered by human eye
No special verification equipment required in labeling process
Alternative to bar code
Performance
Performs field finding, deskew and OCR in 1/2-second
Accuracy comparable to bar code with check digit verification
99.95% accuracy without check digit verification on y-grade media when properly aimed and in focus
Reads strings up to 40 characters
Applications
USPS Certified Mail Labels
Part Numbers
Serial Numbers
Work Order Numbers
ID Badges
Vehicle ID Labels
Shelf Location Labels
File Folder Labels
Durable Parts Marking
Small Parts Marking
Promotional collateral key numbering
Stock Certificates
---
Copyright ©1997 - 2002 Data Identification Systems All Rights Reserved

Last modified: March 21, 2006