IMAGETEAM 3800PDF Linear Imager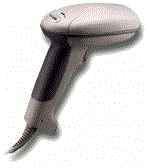 The IMAGETEAM 3800PDF delivers fast, accurate
reading of PDF417, as well as all standard linear
symbologies. Specially designed hardware and firmware
are optimized and combined with a bright, sharp, aiming
line for exceptional performance in any environment. The
PDF label is read by sweeping the scanner up or down
over the code, quickly gathering, decoding, and
outputting the data to the host system. The IT3800PDF
offers a full five year warranty, and is an excellent choice
for office and postal automation, supply chain
management, and vehicle registration applications.