Hand-Held Scanners
MS900 Series - single line hand-held scanner
MS900 Series
Metrologic's MS900 Series hand-held laser scanners provide unsurpassed versatility and adaptability. In these innovative scanners, Metrologic has engineered the best of two worlds: the increased depth of field, accuracy, and high performance of a laser with the durable construction and low cost of a CCD. The MS900 also has a unique patented infrared sensor and control scheme that provides fully automatic activation and operation for complete hands-free scanning. The MS900 can be used either as a hand-held scanner or fixed scanner because of its unique design. An operator can simply "wave" the scanner in a natural position across a bar code and the MS900 will scan automatically. This automatic operation increases worker efficiency and productivity by allowing faster throughput. This added operator comfort reduces the risk of repetitive strain injury.
The versatile MS900 can operate as a "hands-free" scanner when placed in its flexible, fixed stand. An operator can present bar coded items to the MS900 for automatic scanning. Special patents also make it possible to program the scanner for short-range and long-range laser activation in either the hand-held or hands-free mode. The MS900 series consists of three models: the undecoded MS941; the standard decode MS951; and the MS961 decoded with high density code reading capabilities.
Key Features
Patented automatic trigger
Combination hand-held/fixed projection
Short-range and long-range activation
Superior ergonomics
Rugged and reliable
Easy to program
Low cost
---

MS6130 - single line cordless hand-held scanner
MS6130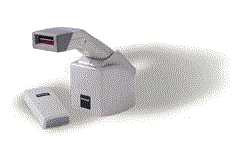 Metrologic's MS6130 cordless hand-held laser bar code scanner combines superior automatic scanning with the convenience of cordless portability. The MS6130 provides an affordable alternative to conventional cabled devices: one-way wireless data communication. With an operating range of 9.1 meters (30'), mobility is no longer inhibited by restrictive cables.
As with all Metrologic hand-held scanners, the MS6130 delivers unsurpassed performance and reliability. At the heart of the MS6130 is Metrologic's IS4120 ScanQuest® engine, featuring patented automatic activation and the latest in scanning technology for fast, accurate reading. As the scanner is presented to bar code items, they are automatically sensed and scanned. Complete with an adjustable charging stand and remote MX003 Liberty® receiver, the MS6130 includes everything needed to experience the convenience of cordless scanning.
Incorporating the latest wireless technology, Metrologic has engineered a safe, versatile system which requires no special operating license. Using a patented control scheme, the MS6130 exhibits very low power consumption for extended battery life.
Key Features
Patented automatic trigger operation
Momentary push-button for activation after dormant periods
Low power consumption for extended battery life
User-replaceable battery
Dedicated transmitter(s) to receiver link
9.1 meters (30') of operating range
---

MS6720 - omnidirectional hand-held/presentation scanner
MS6720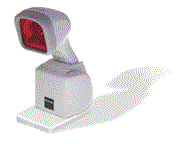 Metrologic's MS6720 is the first laser bar code scanner to truly bridge the gap between omnidirectional fixed projection and hand-held scanners. With this design, Metrologic has engineered a scanner that transcends any other on the market today. The MS6720 utilizes a unique, patented infrared sensor and control scheme for handsfree projection scanning and fatigue reduced hand-held operation. Whether operators choose to present small items to the scanner or transport the lightweight scanner to bulkier items, the MS6720 is the perfect choice for many applications. The mounting stand was designed to provide an adequate distance for scanning between the scanner face and the countertop at all times. In addition, the modular construction thoughtfully includes a removable wall mount cup.
The MS6720 features both short-range and long-range activation, user-friendly programming, reliability and versatility. Operators are sure to appreciate the convenience and flexibility of the MS6720.
Key Features
Combination hand-held and fixed projection scanner
Fully automatic scanning operation
Superior ergonomics
Easy programming
Programmable depth of field
Concentrated omnidirectional scan pattern
Fully adjustable stand
---
MS7120 Orbittm - omnidirectional presentation/hand-held scanner
MS7120 Orbittm

Orbittm is an aggressive, omnidirectional presentation laser bar code scanner. Lightweight and rugged, Orbit is small is size but BIG in performance. Designed for applications where counter space is at a premium, Orbit is the ideal presentation scanner for retail, convenience, liquor and specialty stores. In addition, Orbit's unique, contoured shape allows it to be picked up and used as a hand-held when scanning large bulky items.
Engineered with a large, easy-to-find sweet spot, Orbit increases the first pass read rate for maximum productivity. The scanning head can be tilted vertically a full 30º for added flexibility when scanning various sized objects. These features increase the scanning throughput, without increasing Orbit's size. In order to meet the multiple application needs within the bar code scanning market, Orbit is engineered for easy programming and utilizes user-replaceable cables. Data editing or "parsing" is also a standard feature. Parsing enables the encoded information to be manipulated to meet the host system's requirements.
Key Features
Fully automatic scanning operation
User-replaceable cables
Easy programming
7 beeper tones
Programmable depth of field
Data editing
Optional wall/counter mounting bracket
---
Copyright ©1997 - 2002 Data Identification Systems All Rights Reserved

Last modified: June 11, 2003