In-Counter Scanners
MS860i Mini-Slot®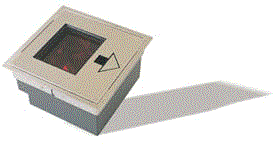 Metrologic's MS860i laser bar code scanner is a high-speed, aggressive in-counter scanner with a history of reliable performance and quality. The MS860i is one of the most efficient, affordable slot scanners in the industry. Designed for use where counter space is limited, the compact, durable housing of the MS860i is nearly half the size and weight of traditional in-counter scanners. A large omnidirectional scan pattern and high first-pass read rate make the MS860i ideal for pass-through scanning. The MS860i autodiscriminates all standard bar codes. The MS860i can read damaged or truncated codes on the first pass, making it ideal for reclamation and coupon redemption applications.
The MS860i is available with full RS232, OCIA, Light Pen Emultion, IBM 46xx and Keyboard Wedge interfaces. Metrologic also offers a patented hand-held option, which allows users to connect the MS941 hand-held scanner to the MS860i for greater scanning versatility.
Programming the MS860i is easy using bar code menus from ScanSelect™ or by using Metrologic's ScanSet® IBM®-PC compatible software program.
Key Features
High first-pass read rate
Optional hand-held port
Stainless-steel top plate
"Touch-on" power save mode
Optional hardened glass
Easy to install and program
---
Copyright ©1997 - 2002 Data Identification Systems All Rights Reserved

Last modified: March 21, 2006