Wearable Scanners
IS4200 Series - single line wearable/desk top scanner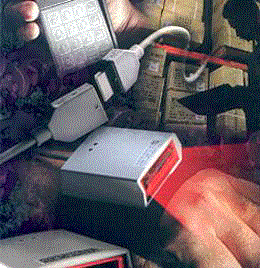 Metrologic's IS4200 ScanGlove® is a fully automatic wearable laser scanning device. As in many products in the Metrologic line, the IS4200 ScanGlove incorporates patented IR activation technology, allowing for automatic, "hands-free" scanning. The ScanGlove can be programmed for either long-range or short-range activation (minimizing inadvertent scans and decreasing power consumption). Operators simply present the scanner to a bar code, and the ScanGlove reads the code automatically. With the elimination of a manual trigger, no "point and shoot" is required, making scanning easier while increasing productivity at the same time.
The ScanGlove mounts directly on the back of the operator's hand, allowing continued use of both hands to perform other tasks. The scanner is easy to use, lightweight and durable. Comfort and safety are ensured with an adjustable hand strap and breakaway cable connectors.
The IS4200 ScanGlove is available in two models: the IS4220 and the IS4210. The IS4220 has built-in decoding for applications that use an RS-232 or Light Pen Emulation communication interface, while the IS4210 interfaces directly to a decode-equipped portable data terminal, computer or other host system. Compatibilty with virtually any RS-232 or Light Pen host device is also a key feature of the ScanGlove.
The IS4200 ScanGlove is also offered in an RF version, incorporating Metrologic's Liberty RF(tm) interface. This version eliminates cable clutter, allowing freedom of movement for operators within a work space of 30 feet from the host device. The flexibility of the host device also increases with the RF version, with possibilities ranging from portable data collectors to laptop and desktop PC systems.
Key Features
"Hands-free" scanning-increases productivity
Fully automatic operation
Superior ergonomics
Lightweight and durable
Easy to program
Autodiscriminates all standard bar codes
Liberty RF interface available
Two-year warranty
Key Applications
Shipping & receiving
Item-tracking/inventory
Order picking
Work-in-process
Package sorting
---
IS4230 ScanGlove® - single line cordless wearable scanner
IS4230 ScanGlove®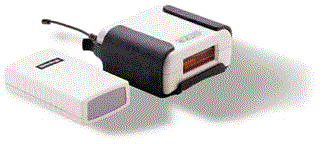 Metrologic's IS4230 ScanGlove® is a fully automatic scanning solution providing flexibility for multiple applications. Attached to the back of the hand and utilizing Metrologic's patented automatic activation technology, the IS4230 offers true "hands-free", portable scanning. This unit combines superior automatic scanning with cordless convenience.
The ScanGlove has programmable long and short range activation to help minimize inadvertent scans and optimize battery life. Metrologic's infrared activation allows the user to simply present the scanner to a bar code; the scanner activates and reads the code. The IS4230 utilizes one-way, wireless data communication between the scanner and Metrologic's MX003 Liberty® receiver. The communication between the scanner and receiver functions at a distance of up to 9.1 meters (30 feet).
Key Features
Patented automatic trigger operation
Low power consumption for extended battery life
Dedicated transmitter(s) to receiver link
9.1 meter (30') operating range
---
IS4320 ScanKeytm single line wearable scanner
IS4320 Series ScanKeytm Laser Bar Code Scanners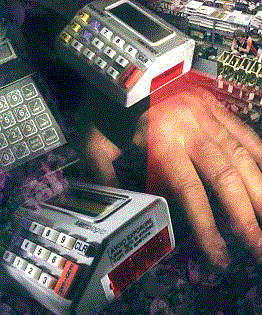 Metrologic's IS4320 ScanKeytm Laser Scanner is a wearable, fully automatic, laser scanning device complete with keypad and LCD. Since the IS4320 is positioned on the back of the hand, operators can scan data quickly and easily. This "hands-free" scanning increases operator efficiency and work productivity. Traditional hand-held scanners require the operator to interrupt the work flow by picking up the scanner and returning it to its stand. With the ScanKey, not only are both hands free to perform other tasks, but the operator is always ready and able to scan.
In addition to quick scanning, ScanKey's 17-button keypad enables bar code data to be manually entered. All information is displayed and then transmitted to the host device. Portable data terminals and computers requiring RS-232 or Light Pen Emulation communication are common host devices.
Metrologic's HandSet® IBM®-compatible software program and simple bar code menus make the ScanKey easy to program. Two-way host communication is also a feature of the RS-232 version ScanKey. The host device can prompt the ScanKey operator with key entry fields, such as quantity, price or other programmable fields via the scanner's display. Among other host-programmable features, operators can use either long-range or short-range activation, establish which bar codes are to be read, and command a "good scan" beep indicator.
The IS4320 ScanKey autodiscriminates all standard bar codes, including bar code types with alphanumeric characters. Specifically assigned sequences are provided to translate the standard numeric keys for alphanumeric data entry.
Key Features
Fully automatic operation
Hands-free scanning
Autodiscriminates all standard bar codes
Long-range/short-range activation
Lightweight and comfortable
Easy to program
Two-year warranty
Key Applications
Shipping and receiving
Item tracking/inventory
Work-in-process
Package sorting
Order picking
---
Copyright ©1997 - 2002 Data Identification Systems All Rights Reserved

Last modified: June 11, 2003