Why do you need safe bar code scanning?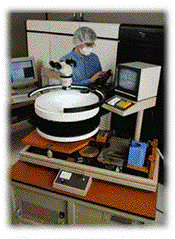 WIP tracking: All-phase production tracking is a data collection function that allows company-wide utilization of data trends. As part of the tracking process, handheld scanners are increasingly being asked to meet rigorous ESD standards that ensure top tool performance and prevent damage to products being scanned. Click here to see an illustration.

ISO Compliance: Increasingly market and regulatory compliance compliance: standards established by individual countries require companies to document "cradle-to-grave" product tracking and enterprise-wide resource planning. Companies that can track component and sub-assembly histories to specific lot and vendor sources are better able to anticipate and execute potential product recalls, and thus reduce liability. Companies seeking ISO certification must adhere to the ISO 9000 Quality Assurance guidelines that establish state of the art manufacturing and documentation protocols.
1D vs. 2D Bar Codes: Unlike constraints posed by traditional 1D barcodes, Codes: 2D barcodes allow for the processing of very large quantities of data. With 2D labels companies are able to track multi-departmental data for use company-wide, with the potential for accommodating large data expandability.
Although there are more than 30 different 2D symbologies, industry standards support three major codes: Data Matrix, Maxicode, and PDF417.
Data Matrix is a matrix symbology that can accommodate up to 2,335 characters per symbol. Symbols typically have 400 to 500 characters per square inch.
Maxi Code was developed by UPS for high speed parcel sortation. 888 data carrying cells are arranged around a bulls eye. Approximately 100 alphanumeric characters can be encoded in a square inch.
PDF417, a stacked symbology, can encode 1,850 ASCII or 2,725 numeric characters per symbol, typically at 900 characters per square inch.
---
Copyright ©1997 - 2002 Data Identification Systems All Rights Reserved

Last modified: June 11, 2003