Duet® Dual Action Scanner

One Scanner Does It All!

With the Duet® scanner, retailers can now scan anything at the point-of-sale: small items, large bulky items, even items that aren't individually barcoded. Now retailers can enjoy speedier checkouts and increased accuracy of "scanned" data. Most items are simply presented to or swept by the scanner. Duet's unique Targeted Handheld capability eliminates the need to manually key items without barcodes, such as unpackaged or specialty products. Simply direct the scanner's pointer beam at a barcoded PLU list, target the correct item, press the trigger button, and the correct data is captured. By isolating a single barcode, Targeted Handheld capability avoids reading the wrong barcode in a cluster of items. The handheld feature also makes it convenient to read barcodes on large or bulky items.

And the Duet scanner's small size fits anywhere, and is a perfect solution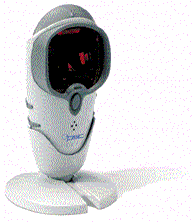 for convenience stores, pharmacies - anywhere counter space is limited.
Individual operators can even position the scanner to create the work
environment which is most comfortable and convenient for them.

Best in Class Performance
Using an advanced visible laser diode scanning system, the Duet scanner
offers a large 9 in. (22.9 cm) depth-of-field and wide scan area for higher
performance hands-free scanning. With enhanced decoding capabilities,
the scanner is fast with high first-pass read rates on a variety of
barcodes, including labels that are long, highly truncated, partially
obscured and difficult to read. It also includes the patented PSC Edge™
software, which automatically reconstructs torn or disfigured labels. And
it reads labels with elements as small as 5 mils (0.127 mm).

This versatile scanner autodiscriminates UPC or EAN plus 5 industrial
symbologies and supports P2, P5 and C128 add-ons.


Advanced Ergonomic Design - Easy to Use and Easy on the User
With two scan windows, the scanner can easily adapt to either fixed or handheld scanning applications: the omnidirectional
pattern for general fixed retail scanning or the single scanline, when held in the hand, for reading large bulky items or
barcoded PLU lists.

When used as a countertop scanner, it is quick and easy to use. Hands-free omnidirectional scanning minimizes the operator's
need to adjust or orient individual items. When used as a handheld scanner, the operator simply picks up the scanner and aims
it at a single barcode in a cluster of items or on a pick list.

The Duet scanner was designed to fit comfortably in the operator's hand with its weight evenly distributed for maximum
balance and minimum fatigue. Tactile elastomeric ribs on the back assure a secure grip.

Built to Last - Built to Save
The specially designed case is built to survive multiple drops from a counter top to a concrete floor and resist chipping, stains,
or fading on the surface. Maintenance is virtually non-existent - simply clean the scanner and the window periodically.
Data ID Systems

Copyright ©1997-2002 Data Identification Systems All Rights Reserved

Last modified: June 11, 2003