PowerWedge 20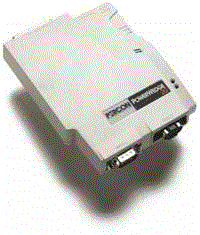 The PowerWedge decoder line offers many features and benefits, including a smaller footprint, optimized performance, added symbologies, improved trigger modes, and backward compatibility with all current decoder cables and settings. A cloning feature enables the user to program multiple units in seconds from a single master unit.
Overview
For the most demanding applications, the PowerWedge 20 is a universal decoder, which can be used as either a keyboard wedge or a serial wedge decoder. Over 300 computers and terminals interface with the PowerWedge 20; in addition, an external serial device such as a scale may be connected using an auxiliary serial connector located on the back of the unit.
The PowerWedge 20 features input editing for data formatting and redirection, host controlled indicators, and serial baud rates up to 57.6K. The PowerWedge 20 supports 16 bar code symbologies and is fully programmable using on-screen menus, a bar code menu, bar code batch labels, serial batch files, or cloning. A PowerWedge 20 dual model is also available, allowing users to connect their choice of up to two input devices and one magnetic stripe reader at one time.
Warranty
Each PowerWedge decoder offers a five-year limited warranty.
On-Site Replacement Warranties
On-site replacement (OSR) Warranties are available for PowerWedge decoders. Customers covered by Percon's OSR warranty will receive a replacement unit (new or as-new remanufactured) unit before the defective equipment is returned to Percon. Replacement equipment is sent from Percon within 24 hours of notification by the customer. OSR equipment will be invoiced on net-15 terms, and your account will be credited when the defective product is received by Percon. An OSR warranty covers the product during the first year after purchase.
Replacement units will be shipped FedEx Economy. Customers may request other shipping methods and pay the difference in shipping costs.
OSR warranties must be purchased at the time the original equipment is purchased.
---
Copyright ©1997 - 2002 Data Identification Systems All Rights Reserved

Last modified: March 21, 2006