SafeD-Band direct thermal wristbands are the perfect solution for your patient identification and patron management applications.

With a durable latex-free polypropylene face stock and polyethylene liner, SafeD-Band wristbands provide unmatched image quality and durability.

Datamax-O'Neil SafeD-Band medical patient wristbands are designed to provide strength, durability, comfort and unmatched image quality. Using the latest in ultra-light synthetic materials and state of the art coatings, SafeD-Band wristbands provide an easy, one-step, print and apply identification solution.

You can rest assured that your SafeD-Bands will provide the quality image and bar code scannability you expect. Utilizing direct thermal print technology, Datamax-O'Neil SafeD-Bands can print a host of barcode symbologies including two dimensional Aztec codes. SafeD-Bands are a perfect complement to protect the five-rights of patient safety in a health care environment, while providing an opportunity for cashless transactions in the patron management field. Available in adult, pediatric, and neo-natal sizes, there is always a Datamax-O'Neil SafeD-Band wristband solution to meet the most difficult application.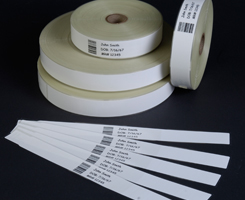 SafeD-Band Wristband Specifications
Available Sizes:
Adult Wristband (1" x 11")
Pediatric Wristband (1" x 7")
Neo-natal Wristband (0.75" x 6")