SnapShot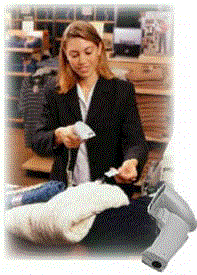 The Percon SnapShot is a lightweight, yet rugged bar code scanner. It is simple to use: just point scanning window at a bar code and press the trigger. A red light emitting diode (LED) on the top of the SnapShot indicates when the SnapShot is scanning, and a green LED indicates when a scan is successful.
Two Models To Choose From
SnapShot is available as a decoded or undecoded scanner. Decoded models can be connected to any supported PC or terminal as either a keyboard wedge or a serial device. Undecoded models must be used with Percon PowerWedge fixed station decoder (or similar decoders) or with portable data-collection terminals (such as the Percon PT 2000).
The scanning range depends on the type of SnapShot scanner you are using. Currently there are three types of decoded and undecoded scanning performances to choose from: standard, enhanced and high-density.
SnapShot Decoded Models:
SnapShot decoded models are based on the feature set found in the PowerWedge 20 decoder. Key features in any decoded model include:
Interfaces
Bar Code Symbologies
Each decoded model supports the following symbologies:
Code 39 and Full ASCII Code 39
Codabar
Interleaved, Standard, Matrix 2 of 5
UPC-A/E
EAN-8, EAN-13 and JAN-8, JAN-13
EAN 128
UPC/EAN/JAN extensions
Code 11
MSI
Code 128
AMES
Label Code 4/5
ISBN conversions
Programming
A unique "Auto-Learn" feature enables users to "teach" the scanner to accept the different types of bar codes used. In addition, the SnapShot decoded laser offers four programming methods:
Bar code menu
Bar code batch
Serial batch
On-screen programming
Laser Trigger Modes
Three trigger modes allow users to adjust SnapShot's trigger functions depending on the scanning environment.
In normal mode the user points the scanner and depresses the trigger until a beep sounds indicating successful scanning.
Using multiscan mode, you can scan bar codes without pressing and releasing the trigger for each one.
With SnapShot in autoscan mode, you press and release the trigger once to turn the unit on. You can then read several bar codes without having to press the trigger for each one. When used in conjunction with a SnapShot stand, this scanning mode offers the benefits of a hands-free scanning environment.
Full Keyboard Support
This function allows users to encode any key on a keyboard - including all function keys. The unit also allows auto-terminators to be any of 128 ASCII characters.
SnapShot Cabling
SnapShot was designed to keep cabling requirements easy to implement. There are several types of cables available for your SnapShot laser depending on the type of configuration you need. Each cable features an RJ connector on one end which plugs into the socket on the SnapShot's base.
---
Copyright ©1997 - 2002 Data Identification Systems All Rights Reserved

Last modified: March 21, 2006