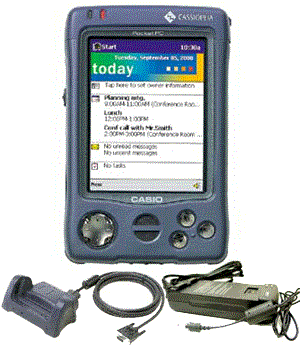 EG-800 Premium, Industrial Cassiopeia
Small, Rugged and Packed with Power
The EG-800 Premium, Industrial Cassiopeia is a 65,536 Color Palm-size device which uses the Microsoft Pocket PC operating system and is perfect for many business applications. This amazing unit puts together all the benefits of the other PPC's without adding in the negatives. This package includes an RS232C Cradle and an External Battery Charger.
The unit is housed in a rubber tire-like casing, which is virtually waterproof and shockproof. The new EG-800, Industrial Cassiopeia is perfect for the "rugged workplace". One crucial aspect that make this Pocket PC ruggedized is the screen. Unlike most screens, which give a small amount of tactile feedback when written on, the EG-800's has a very soft feeling, much like writing on wax paper. The EG-800 can be used with such optional hardware accessories such as Bar Code Scanners, and Wireless Data Communication Devices.
The EG-800 Premium comes with following accessories:
Rechargeable Medium Battery
Regular AC Adapter
Serial Cable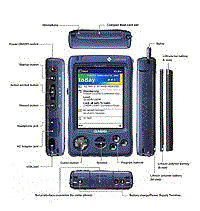 Mission-Critical Features
Features include rugged drop resistant and splash resistant design, One-hand Action Control, Voice Recorder Button, Super Bright Backlight, Compact Flash Card Slot, Assigned Program Buttons, Infrared Port, Cursor Button, Lithium Polymer Battery Sheet, Rechargeable Battery Terminal, Stylus.
A PDA that's rugged for the workplace. The "rugged workplace" being the construction field, factories, pretty much locations where a PDA might be exposed to extreme torture. The EG-800 is prepared to battle such suffering with its armor, a rubber casing which wraps around the entire PDA. This helps protect against shocks and other environmental dangers.
Another noteworthy feature in the structure are the buttons, which are rubberized rather than silvery plastic buttons. The jog dial, record, power, and "start," all are constructed of soft rubber. Think "bike tire" material. The three shortcut buttons on the front of the EG-800 and the cursor are the only buttons, which are silver coated plastic.