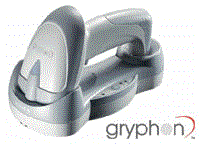 Datalogic Gryphon M100
Datalogic has moved a step ahead in the concept of "instinctive reading." The new Gryphon reader series has been developed to provide optimized reading performance through excellent ergonomic design, a natural instinctive reading approach and innovative good reading feedback. With all the great scanning abilities of the D100 Gryphon but without the cable, this CCD scanner works up to 15 meters from its base station. The base, which handles battery charging and communications, connects to a PC or terminal in the same way as a standard scanner. Thanks to its Italian design, it looks great too.
The "INSTINCTIVE READING DISTANCE," a concept introduced by Datalogic a few years ago based on in-depth ergonomic studies, represents the natural position of the user while reading a code. The Gryphon series takes this concept one step further. The series includes the tethered (D200) and one cordless (M100) models, allowing operations anywhere mobility is required at the desk/POS and around the shop floor, as well as in a small warehouse. The new "green spot," (Datalogic patent application) produced by the Gryphon provides "good reading" feedback directly on the code, where the user usually tends to be looking. Correct pointing becomes quick and easy thanks to the sharp and bright illumination line. All these characteristics are coupled with outstanding performance in terms of reading quickness and decoding capability thanks to state-of-the-art optics and a decode rate of 270 scans/sec, making the Gryphon very user friendly, intuitive and fast.