5133A OCR Document Reader - KIT-05133-001 - List Price: $1995.00
5133A Series OCR Line Reader
Optical Character Recognition, Bar Code, Magnetic Stripe
The 5000 Series OCR Readers are among the most versatile data entry tools available. As a low-cost alternative to keyboard data entry, these character readers help avoid payment processing delays, data entry errors, and repetitive stress injuries. This all-in-one unit has the ability to quickly scan characters, bar codes, and magnetic stripe. The 5000 Series Reader can be ordered with a hand held wand for versatile scanning of short fields or selective scanning from a form or menu. For longer scan lines, the tabletop slot version integrates a slot for OCR or bar code with a second slot for magnetic stripe cards. For higher volumes, a motorized batch-processing version is also available.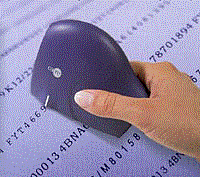 With simple keyboard wedge interfacing, over-the-counter or back room remittance scanning can now be done with no changes to the host computer hardware or software. Processing is done inside the unit, allowing it to connect in-line with an existing keyboard and to send keystrokes along with hand-typed data. The readers can be programmed to emulate the operator keystrokes necessary to flow data into any application.
Features
Reads specialized OCR fonts OCR-A, OCR-B,
Reads PostNET
Reads up to 200 characters per second with over 99.99995% accuracy on ANSIY-Grade media
Secondary input port for external bar code or magstripe reader
Choice of scanner light source
Red (allows red as forms drop out color)
Infrared (drops out all colors but black)
Reads triple-track magnetic stripe (optional feature; available externally or integrated into the unit)
Hand held wand and controller for selective data entry
Model 5133A or 5233: One-piece design integrates slot reader and controller for payment processing
Auto discriminates among OCR, 16 bar code types, and 3-track magstripe media
Fully programmable through menu scanning, modem, or on-screen program for: preamble, postamble, baud rate, parity, word length, character output codes, intercharacter delay, input port buffer, port identifiers, intermessage delay, input field validation, check digit verification, data suppression, character insertion, field move, character translation, and more
Programmable audio/visual confirmation of read
Programmable auxiliary RS-232 COM port for relay drive, scale input, PDT download, 2D bar code readers, etc.
Flash memory for in-field upgrades 32-bit microprocessor
Miniature OEM version available
Meets UL, CUL, FCC, TUV, and CE safety agency approvals
Applications
Used worldwide in applications ranging from banks to hospitals and public utilities to retail.Remittance processing to scan account number and payment information in any businessthat regularly receives billing stubs from customers, donors, or organization members.
Municipal Governments for tax, water, fees, and license bills
File folder tracking of names and numbers
Employee number scanning for piece-work payroll
Data entry automation for order entry
Interfaces
Keyboard wedge interfaces to over 400 computers and terminals, plus hundreds of clones
Serial ASCII interface via dual-port RS-232
ABA magnetic stripe track two emulation for POS
International keyboard support
---
Copyright ©1997-2010 Data Identification Systems All Rights Reserved