PT 2000 Portable Terminal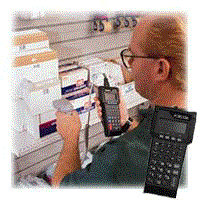 Small and lightweight, the PT 2000 is your answer to portable data collection. Its convenient size fits comfortably in your hand. Better yet, it weighs only 12 ounces (including batteries)! And it's loaded with all the features you require in a portable.
Flexibility puts you in control. The PT 2000 gives you the flexibility to choose the appropriate input device for your application, whether it's a wand, CCD, 5V laser or I.D. badge scanner. Its 4-line-by-16-character LCD display provides easy readability, and 34 splash-resistant alphanumeric keys, including 4 programmable keys, give you the option of keying in data.
In addition, the PT 2000 offers up to two megabytes of data storage, making even your largest applications portable.
Powerful performance
Three AA alkaline or nicad batteries, or a rechargeable nicad battery pack power your PT 2000 for up to 12 hours of continuous use (20,000 scans with a 5V laser or CCD). Should your batteries fail, a lithium backup battery is built into the unit for up to 10 days of memory storage.
Double Duty
The PT 2000 features a built-in AT and PS/2 interface, so you can use it as a keyboard wedge for those applications requiring fixed-station scanning. This "double duty" feature allows you to maximize your investment---saving you money!
Programming -- fast and easy
With the help of Percon Program Generator (PPG), a Microsoft Windows-based application program generator, you can quickly and easily outline your data collection task and upload the program to the PT 2000. Program changes that were expensive and took days can now be finished in minutes; reprogramming the PT 2000's bank erasable flash ROM memory takes just a few seconds!
Tolerates Any Environment
Backed by a one-year warranty, this durable unit is rugged enough to withstand multiple drops to concrete. Its compact size, ergonomic design and long battery life make the PT 2000 an excellent choice for use in a variety of environments including inventory control, point-of-sale and any place where field data collection is required.
The PT 2000 from Percon. It's everything you need for portable data collection and more.
Benefits
---
Copyright ©1997 - 2002 Data Identification Systems All Rights Reserved

Last modified: March 21, 2006