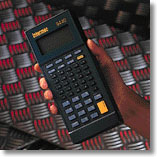 Ask any Data ID customer about fast repair. Custom interfaces. Solutions to bar code problems no one else could, or would deliver. This kind of service is hard to show on paper. But then, who cares . . . . as long as it shows in our work, and in yours.
Data ID Rental Service
Who stays ahead in technology and behind their customers?
Data ID Systems - A customer oriented company offering leading technology data collection solutions designed to increase accuracy and save time. Data ID products benefit a wide range of work environments including POS, warehouse, medical, and education. Our customers, however, will tell you one of our most outstanding products is our service.
Call us today to inquire about our rental equipment program.
Data ID's selection of intelligent portable data collectors enable you to collect data anywhere, quickly and accurately. And they provide you with the information you need to run your business more efficiently in any kind of application, from parts management and inventory control to asset tracking and records management.
If you require a rugged system to track goods through demanding manufacturing processes, account for items located outdoors such as on a shipping - receiving dock, or control an inventory of potentially hazardous materials, our portable data collectors can withstand harsh environment requirements.
Call for information on our transaction manager rental packages.

Follow this link to our Rental Agreement Form
1-800-632-8243