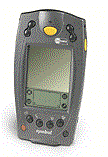 SPT 1800 Series Pocketable Computers
Rugged Mobility, Efficient Data Management and the Power of Palm

The SPT 1800 Series of pen-notepad computers offers the most advanced Palm Powered solution for your work force. This family of rugged mobile computers combines integrated scanning, sophisticated wireless connectivity and powerful processing capability with the Palm OS® platform. With one-dimensional bar code data capture, the SPT 1800 Series is a powerful productivity-enhancing tool, serving the multiple needs of today's growing mobile workforce.

Tackle Tough Environments

Tough enough for use in manufacturing and industrial environments, the SPT 1800 Series enables the Palm OS to perform practically anywhere. The rugged housing of the SPT 1800 withstands drops of up to 4 ft./1.2 m to concrete, and the Series is sealed to IP54 standards for protection against rain and dust.
With Symbol's state-of-the-art scan engine, the SPT 1800 delivers premium performance under virtually any lighting conditions– even in sunlight or bright artificial light. A high-contrast, anti-reflective liquid crystal display makes data easy to read in low lighting or outdoor conditions.

You may also be interested in the Palm-size printer for the SPT 1800.
Empower Your Work Force

The combination of rugged durability, integrated bar code scanning and wireless communication enables users in a host of industries to capture, compute and communicate data anytime, anywhere.
As shipments are unloaded, warehouse management can easily record new inventory levels to networked host systems. Service professionals in hospitality can offer curbside check-in at hotels, and hospital physicians and caregivers can have the latest patient data at hand.

Law enforcement officers can scan vehicle registration or drivers' licenses to gather information immediately. In retail, when coupled with a magnetic stripe reader and portable printer, the SPT 1800 becomes a portable point-of-sale device, and, for scan-intensive tasks, an attachable handle converts the SPT 1800 into an ergonomic pistol grip design.
Mobile Solutions

Deployment of the SPT 1800 can help increase efficiency and productivity in your business, and a complete line of accessories and peripherals is available to create a total mobile solution.
Specifications are subject to change without notice. All product and company names are trademarks, service marks or registered trademarks of their respective owners.