What's a Bar Code?
Examples of how bar codes are used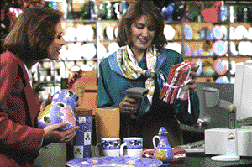 The following are just a few of the many ways bar codes are being used to improve the profitability and efficiency of a variety of company types.
Point of Sale

Point of sale is one of the most common segments of the bar code market. Everyone is familiar with the scanners in grocery and department stores. Benefits of bar coding in point-of-sale systems include:
Cost Savings: This is the most obvious benefit. A medium-to-large store can save enough checker time to significantly reduce payroll. You also save direct labor costs through less time spent taking inventories and ordering product.

Customer Satisfaction: A proper bar code system will speed customer checkout. This will improve customer satisfaction enough to directly increase revenue over time.

Reduced Inventory Costs: Immediate access to inventory information on a real-time basis can be used to reduce inventory levels. This will reduce costs for a company in a number of ways, including interest, labor for handling excess inventory, and facility overhead.

Automated Reordering: Accurate stock levels allow for automated replenishment of low inventory.

Better Decision Making: With bar code data-collection you can tell not only what the customers are buying, but when they are buying it and in what combinations. This can improve business management by suggesting better locations for goods in the store and identifying advertising targets.
Point-of-sale systems can be used in any retail setting. The grocery industry is the best organized setting, but most vendors in that area are concentrating on high-end scanner/mainframe systems. There are abundant opportunities for PC-based systems in small to medium-sized businesses, such as video stores, convenience markets, and clothing stores.
Work In Progress

Many manufacturing and other industries have work that must go through several steps to completion. Bar code systems can track material through each step of the work and keep detailed records on each piece or batch. When a problem occurs in the output, supervisors and managers can track the work back and quickly resolve the issue.

This is one of the best ways to improve both quality and yield in virtually any multi-step process.

Inventory Control

Tracking inventory manually is a laborious process. With bar codes applied to each item in inventory, portable scanners can be used to track shipping and receiving and quickly take physical inventory. The data from portable scanners can be uploaded to a central computer system at regular intervals or portables can update inventory in real-time, depending on the system you choose.
Bar code inventory control provides accurate, real-time inventory updates. This allows a company the opportunity to reduce stock levels and thereby reduce carrying costs. It also reduces the time taken to collect data for purposes such as annual inventories. With improved efficiency, operating costs are lower. Data ID markets IntelliTrack inventory management software. Different modules of the software target different applications of inventory control, including fixed asset tracking, inventory management, check-in and check-out tracking, and stockroom management..
Secured Access

A secured access system provides door and gate security by controlling access using encoded employee identification badges. Bar code badge scanners or magnetic stripe readers are mounted at doors and gate entrances, and authorization is provided from a central computer.

Time and Attendance

A time and attendance system uses encoded employee identification badges that are scanned when employees start and stop work. This allows automatic tracking for payroll and eliminates paper time sheets and time clocks.

Quality Control

Bar code systems in quality control can be used to tell a person which test to perform for a given part and where to send it if it fails. Bar code systems can also create permanent records for tracking component and subassembly failures.

Packaging

For packaging, a bar code printer is used to generate a label to identify part numbers, serial numbers, and shipping information. This labeling can be used to automatically sort packages for shipment, automate receiving, and greatly enhance package tracking.

Collection of Data from Forms

Businesses such as medical and dental practices rely on complex patient forms. Using bar codes, detailed information can be quickly entered in the computer. Bar codes printed by check boxes on a form allow fast accurate data entry by simply scanning the codes by the check boxes. This makes an easy task of gathering large amounts of information for a client. Reduced data collection costs and better service are the results.

Productivity Measurement Systems

Productivity measurement is a practice that can drastically reduce labor costs in manufacturing, warehousing, and most other types of business. A well-managed system will allow supervisors to isolate the problems that may come up so that they can take steps to solve them. Within an organization, departments may have different types of activities, making it difficult for supervisors to keep track of what everyone is doing. Productivity-measurement systems automatically track what work is being done and compare the work to expected output. When the results do not measure up, supervisors can take corrective action.

This type of informed supervision and management can typically cut department costs by 15 to 20 percent.

Summary

These are just a few examples to get you started thinking about what you can do with bar codes. Bar code systems routinely save companies money while improving quality, on-time performance, and other key business factors.
Copyright ©1997-2002 Data Identification Systems All Rights Reserved

Last modified: March 21, 2006