What's a Bar Code?
Data Collection Technology

Portable Data Terminals

Portable data terminals ("PDTs") are handheld, battery powered durable computers. Data can be entered either manually through an input device such as an integrated keypad or automatically through a wand, CCD or hand-held laser scanner. Percon's Falcon™ 320 portable terminal is a 32-bit, 486 microprocessor 16-line display DOS-based unit, weighs just 15.5 ounces, and is available in both batch and RF models (Falcon 325). The Falcon 325 supports wireless LAN technologies through a user-accessible PC card slot. Through this PC card slot the unit supports RF communications—principally 2.4 GHz radio solutions offered by multiple vendors and memory cards. Percon also markets the PT 2000 and TopGun™ portable data terminals.

Fixed Station and Integrated Decoders
PowerWedge™, Percon's family of fixed station decoders, are bar code readers designed to be connected in series with the keyboard of either a PC or a computer terminal or attached to a serial port on a host computer. Bar codes scanned by the decoders are translated into data used by the PC or terminal as if the data originated from the keyboard.

Hand-held Input Devices

SnapShot®, Percon's family of hand-held laser scanners, are input devices that use scanning technology for data collection. These input devices permit non-contact scanning of bar code labels on flat, curved and irregular surfaces up to distances of 36 inches and come in undecoded and decoded models. Decoded models can be connected to any supported PC or terminal as either a keyboard wedge or a serial device. Undecoded models must be used with Percon's PowerWedge decoders (or similar decoders) or with Portable Data Terminals.

Application Software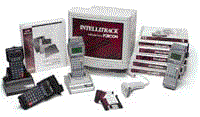 Application software consists of PC-based computer programs that permit the storing, management and reporting of data. Data can be uploaded or downloaded into these programs with Percon's PDTs. Percon offers IntelliTrack® RF wireless warehouse management software; PowerNet TN terminal emulation software for RF-enabled Falcon portables; IntelliTrack data management software, which include applications for fixed assets, inventory, and shipping and receiving; Universal Program Generator (UPG); Portable Applications Library (PAL), which includes seven standard applications; and Percon Program Generator (PPG). UPG and PPG are Windows®-based program generators that allow greater ease of programming and customizing of Percon's portable terminals. You can create custom programming of other leading DOS-based portable data terminals with UPG.
---
Copyright ©1997 - 2002 Data Identification Systems All Rights Reserved

Last modified: March 21, 2006