IMAGETEAM™ 4410 LR/LX
Hand Held 2D Image Reader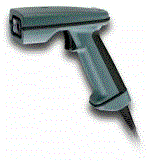 The Hand Held Products IMAGETEAM™ (IT) 4410 Image Reader can be configured as either a hand held or fixed mount device that reads matrix, stacked linear, and conventional linear bar codes, as well as a single line of OCR-A and OCR-B fonts. Multi-line OCR applications can also be read. The IT4410 has the power to capture and download images to a PC for applications, such as signature capture, PC-based decoding, and image lift requirements.

The IT4410 Reader can be used in retail, packaging, transportation, printed circuit board manufacturing, electronic component manufacturing, and clinical/diagnostic applications that include test tube and reagent package labels.

The IT4410 can be configured for keyboard wedge, Non Decoded Output (Code 128 emulation), TTL RS232, or True RS232. The IT4410 connects to all popular PCs and portable data terminals. The Non Decoded Output mode can be used with external wedge decoders and portable terminals or other devices without 2D decoding capability.

The IT4410 features integrated processing for a one-piece scanning solution - no additional boxes or electronics needed. The reader provides omni-directional an auto-discrimination decoding for symbologies, such as MaxiCode, PDF417, QR, Data Matrix, Aztec code, RSS code, composite codes, postal codes, Code 39, Code 93, Interleaved 2 of 5, Codabar, Code 128, UPC and EAN. Additional symbologies will be added based on market demand.
Features & Benefits
2D Image Reader
Hand held or fixed mount image reader for reading and decoding 2D symbologies and capturing images
Supports all popular 2D symbologies
Fixed mount IT4410 supports all popular matrix and stacked linear symbologies: MaxiCode, Aztec, Aztec Mesa, Data Matrix, PDF417, QR, and MicroPdF417
Fixed Position Reader
Opens up new 2D bar code and image capture possibilities for fixed scanning applications
Omni-directional scanning
CMOS-based video technology and image processing gives the IT4410 full omni-directional scanning, even on linear codes, greatly simplifying operator training and increasing productivity
Aiming
The IT4410 has a bright, intuitive aiming line
Autodiscriminates between supported symbologies and fonts
Reads all major linear, stacked linear, and matrix bar codes as well as machine readable fonts used in Optical
Character Recognition (OCR)