Applications
Document Tracking
Libraries
Stockrooms
Property & Equipment
Maintenance Parts
Central Stores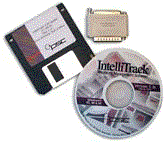 Benefits
Quickly and easily track materials and equipment out on loan.
Integration - A wide variety of import and export file formats in Access allows easy integration with other systems.
Accuracy - bar code data collection virtually eliminates data input errors.
Speed - bar code data collection speeds up inventory process by 300% or more.
Check In/Check Out for office equipment use, main stores.
Overview
A cost-effective solution for managing your tools and consumable stock
The IntelliTrack® Check In/Out module manages material and equipment check-in and check-out transactions, and manages your consumable stock. Great for internal libraries, audio/video departments and document rooms. Check In/Out is a powerful tool to manage circulating inventories.
No programming is required with IntelliTrack's Access database. Microsoft Access gives you the flexibility to modify reports, produce graphs from the data, perform queries, and export the data to virtually any system.
IntelliTrack® Check In/Out comes with these standard reports:
Check In/Out –Inventory Details
Check In/Out –Inventory Summary
Check In/Out –Past Due
History by Date
History by Item
Inventory by Category
Inventory by Location
Inventory by Lot/Expiration Date
Inventory Item Detail
Inventory Summary
Inventory with Pictures
Inventory, Negative Quantity
Issue Number
Issue Transaction
Overstock Summary
Receipt Number
Receipt Transactions
Reconciliation
Rental Billing Report by Transaction Number
Rental Cost by Account
Rental Cost by Department
Rental Cost by Employee
Rental Cost by Order
Retired Items
Usage by Check Out Item
Usage by Item Number
Uses
Check In/Out Materials & Equipment
Manage Consumable Stock
Take Physical Inventories