Mini PowerWedge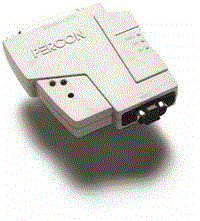 The PowerWedge decoder line offers many features and benefits, including a smaller footprint, optimized performance, addedmodes, and backward compatibility with all current decoder cables and settings. A symbologies, improved trigger cloning feature enables thea single master unit. user to program multiple units in seconds from
Overview

Designed to meet the tightest space requirements, the Mini PowerWedge measures 2.75 inches wide by 3.25 inches long by 0.75 inches high and weighs 2.3 ounces. It is a keyboard wedge decoder featuring a single 9-pin squeeze-style connector and a 25-pin interface connector that supports a variety of popular interfaces including IBM PC/AT/XT, PS/2, and Macintosh computers as well as many terminals.

Users can quickly and easily program the Mini PowerWedge using their choice of programming method: bar code batch, bar code menu, on-screen menu, or cloning. The Mini PowerWedge discriminates among 16 different symbologies and provides bar code input support for wands, 5-volt lasers, CCDs, and ID badge readers. Magnetic stripe support (one or two tracks) is available, and serial input devices such as lasers, scales, and check readers are also supported.

Warranty

Each PowerWedge decoder offers a five-year limited warranty.
---
Copyright ©1997 - 2002 Data Identification Systems All Rights Reserved

Last modified: June 11, 2003