Intermec Technologies Corporation has a complete line of data collection hardware, network devices, mobile computers, bar code printers and label supplies, and support their offering with a worldwide sales and service network that includes Data ID Systems, one of the nation's leading software integration partners.
Input Devices & Wedges
Intermec also produces a wide variety of data collection equipment, including wands, badge scanners, imagers, charge coupled devices (CCDs), laser scanner and wedges.
2010 JANUS Handheld Computer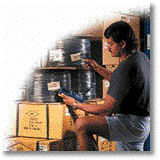 The JANUS 2010 is PC-AT compatible, with a 386 power efficient microprocessor, runs Microsoft® DOS, and supports most standard PC programming languages and off-the-shelf software. It provides evolutionary compatibility with Intermec's Interactive Reader Language (IRL), and has room for PC cards for flexible pop-in memory expansion and for the latest in communications capability. An internal memory option of up to 4MB of RAM is also available.
The 2010 withstands harsh environments, temperature extremes, moisture, exposure to dirt and dust, and is available with a non-incendive rating for hazardous evironments. It has a 16 x 20 backlit, high contrast, CGA-compatible LCD display with virtual 25 x 80 display through windowing. Superior power management provides 10 hours of use from a single NiCad battery pack.
---
2020 JANUS Handheld Computer with Scanner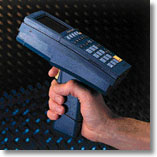 JANUS 2020 combines a built-in scanner with all the features of the 2010 for single-handed data collection.
Built to take anywhere, this intelligent, rugged portable lets you bring the power of your desktop to your worksite. The JANUS 2020 is PC-AT compatible with a 386 micro-processor and runs Microsoft® DOS, making it easy to program using many off-the-shelf standard PC-based programs. Its industry standard PC card drive provides flexible expansion of memory or I/O capabilities so your 2020 can grow with you as your computing needs change. It is also available with a non-incendive rating for hazardous environments.
The JANUS 2020 portable has a large 16 by 20 backlit, high contrast, CGA-compatible display with virtual 25 by 80 display through windowing. There is no need to shift for alpha characters with its 54-key alphanumeric keypad. A large 36-key keypad is also available.
---
T2420 TRAKKER® Antares Handheld Data Collection Terminal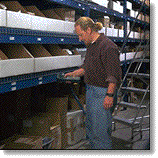 The T2420 is the batch model of the TRAKKER Antares hand-held line. It is a low-cost terminal with high-end features designed for broad off-line data collection applications. It offers advanced features such as a large 16 x 20 display screen, full alphanumeric keypad, memory expansion capabilities, and sophisticated power management through its state-of-the-art Lithium Ion battery.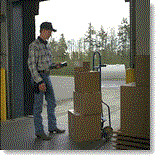 The T2420 features industry standard programmability using Microsoft® C or the EZBuilder Rapid Application Development Tool. It shares the same architecture, modularity, bar code scanning options, and appearance of the T2425, less the antenna and radio electronics, but also offers expanded storage options frequently needed for off-premise batch applications. Host communications for upload/download use a tabletop dock. Serial peripherals are connected with a serial adaptor for portability.
Designed with the operator in mind, the superior ergonomics deliver a comfortable and rugged solution for physical inventory and cycle counting, in-field inventory, asset tracking, and maintenance management applications. T2090 Trakker
---
9440 TRAKKER® Handheld Terminal
The 9440 TRAKKER portable transaction manager is a versatile and powerful data collection tool, yet easy-to-use and program. It includes Intermec's Interactive Reader Language (IRL) software, full ASCII keyboard, and 4-line by 20-character super twist display with backlight. The 9440 can be used with most Intermec input devices including laser scanners. It permits alphanumeric data to be keyed in without shifting, using fully sealed 48-key alphanumeric keyboard.
This hand-held terminal is lightweight, yet provides top reading performance in harsh working conditions, even in sub-zero temperatures.
TRAKKERs® are an economical solution for basic portable data collection applications such as inventory control, asset management, shelf price look-up and data entry.
---
Copyright ©1997 - 2002 Data Identification Systems All Rights Reserved

Last modified: June 11, 2003