LS 3000MX Scanner Series Memory scanner for cabled or cableless data collection.

Durability and Performance for Demanding Retail Environments
The MX Series represents the only hand-held scanners whose performance has been optimized specifically for retail POS applications. The LS 3000MX is specifically designed for rugged retail and general merchandise environments like "do-it-yourself" stores and warehouse clubs. It can withstand multiple six-foot drops to concrete and is environmentally sealed against dust and moisture. At the same time, it's lightweight and ergonomically designed for comfort and ease of use.
Patented Mylar Scan Element Lasts and Lasts
Another reason the LS 3000MX is so reliable is Symbol's patented Mylar-- scan element. Like a tuning fork, the Mylar scan element resonates at a fixed frequency creating motion without wear and tear. Plus, it is shock-proof and durable for nonstop reliability. In fact the Mylar scan element is so reliable that it is backed by its own limited lifetime warranty...another Symbol exclusive!*
Hand-Held or Hands-Free: The Best of Both
Tough and dependable as it is, the LS 3000MX is also long on convenience and versatility. Symbol's new IntelliStand allows these hand-held scanners to be converted instantly to hands-free operation. Just place the scanner in the IntelliStand and it becomes an easy-to-use presentation scanner -- perfect for scanning small items without having to pick up the scanner. Take the scanner out of the IntelliStand to scan large or bulky items. That kind of versatility makes the LS 3000MX ideal for handling a diverse merchandise mix. And, IntelliStand's mounting options provide freedom and flexibility in any retail POS environment to minimize footprint and maximize utility.
Stretch Your Investment
Connectivity is a plus, too. Scanner models are available to plug into any retail terminal and can easily be moved between applications to get the most from your overall scanning investment. And the LS 3070 version provides the convenience of wireless connection to a POS terminal where extra freedom of movement is a must.
When You Need More, You Get More
The capabilities of the LS 3000MX Scanner Series goes beyond POS scanning. They can be used on the selling floor for price verification or changes and reordering, and in the back room they can track inventory or record deliveries and shipments. In the office, they process records and documents. The LS 3000MX Scanner Series: It's the scanner that makes easy work of tough tasks. And it's from Data ID Systems, a leader in bar-code driven data management transaction systems with thousands of scanners and terminals installed.
*The Mylar scan element consists of a Mylar strip, frame, mirror assembly and magnet. There will never be a charge to you for repair due to the listed elements. In addition, the entire unit carries Symbol's standard warranty. All Symbol warranties apply to the original owner and do not cover repair due to misuse or physical abuse.
A member of Symbol's family of products to meet retailer's diverse requirements for POS scanning.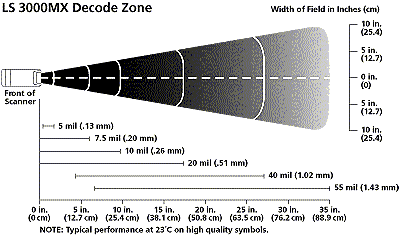 Palm Pilot
Memory Scanners
PDT 6800 Series Portable Data Terminals
Spectrum24®
LS4000 Series Scanner
LS9100 Omni-Directional Scanner
---
Data ID Systems, 20 South Santa Cruz Ave. Los Gatos, CA 95030

Copyright ©1997, 1998, 1999 Data Identification Systems All Rights Reserved

Last modified: March 21, 2006