High-Performance Flexible Scanning for Retail POS Environments
Profit from Today's Most Technically Advanced Omni-Directional Scanner
The LS 9100 Omni-Directional scanner from Symbol Technologies is your key to improved POS productivity. This impressive scanner can read all bar codes, even those that are poorly printed or damaged. It takes up very little valuable counter space thanks to its small footprint. And operators find the LS 9100 a dream to work with since it's so easy to use. Its flexibility and reliability make it a smart investment that can meet your current and future POS requirements.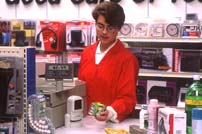 Fast, Friendly, Flexible…
A Hands Down Winner
Hands-free operation combined with a large scan pattern make the LS 9100 extremely user-friendly. A quick pass and this omni-directional scanner reads bar codes on the first try–even truncated or poorly printed symbols.
The LS 9100 provides variable mounting options for unmatched POS adaptability. This means you can easily customize the scanner to meet your store's specific configuration requirements. Plus the LS 9100 quickly converts to a hand-held scanner for those bulky items that are hard to bring to a fixed scanner. Users find the LS 9100 comfortable, easy to use and highly accurate–all of which adds up to speedy checkouts and increased customer satisfaction.
Technically…A Superior Scanning Solution
The LS 9100 has several impressive features–including the EAS checkpoint deactivation option that saves precious POS space by co-locating the deactivation antenna with the LS 9100. Its flash memory is electronically erasable so future software upgrades can be easily downloaded on site with a standard personal computer. In addition, the optional power cable saves plenty of space and frees up electrical outlets by using your host computer as the power source (including Siemens–Nixdorf, Beetle Register, IBM 486X and 469X, among others). This eliminates the need for a separate power supply.
A Perfect Fit for Many Retail Applications
The LS 9100 fits right into many different retail operations–convenience stores, drugstores, specialty softgoods and hardgoods stores, even in major department stores. In fact, any store that needs fast, accurate checkout and improved customer service will benefit from the LS 9100's efficient and flexible hands-free scanning. In addition, this scanner is equally at home in many receiving areas or offices that need high-performance scanning in a compact, reliable device.
Palm Pilot
Memory Scanners
PDT 6800 Series Portable Data Terminals
Spectrum24®
LS4000 Series Scanner
LS9100 Omni-Directional Scanner
---
Data ID Systems, 20 South Santa Cruz Ave. Los Gatos, CA 95030

Copyright ©1997, 1998, 1999 Data Identification Systems All Rights Reserved

Last modified: March 21, 2006