PDT 6800 Series Portable Data Terminals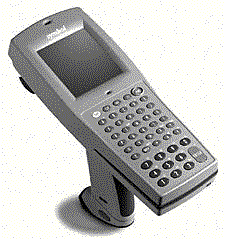 Portable and Rugged Terminals for Scan-Intensive Applications
The PDT 6800 Series are rugged, lightweight, portable data terminals combining mobile computing and optional wireless communications with comfortable, well- balanced, "forward-scanning" ergonomics. Designed for harsh environments, the PDT 6800 is excellent for industrial markets such as transportation and distribution, yet small enough for scan-intensive applications in retail, such as inventory management and replenishment, price management and receiving.
Building on the legacy of the popular Laser Data and Laser Radio Terminals, this single-handed productivity tool offers a spacious 35- or 46-key alphanumeric keypad, internally mounted radio antenna, and your choice of standard, long-range or high-visibility scanning options.
Communications options include both Spectrum24® and Spectrum One® wireless LAN connectivity for real-time high-performance data transfer. Or, choose batch communications with an extended memory option for on site processing and quick uploading/downloading to your PC. Additionally, the PDT 6800 was specifically designed to make full use of existing LRT/LDT cradles and peripherals, providing a total system solution without the added cost of changing the accessories.
Key Benefits
Forward-scanning ergonomics
Large 16-line backlit, high-visibility display
35- or 46-key alphanumeric keyboard
Internal radio antenna
Reliable DOS-based industry standard architecture
Ruggedized to withstand multiple 4ft/1.2 m drops to concrete
Environmentally sealed against rain and dust (IP54)
Large-capacity battery
Choice of standard, long-range or high-visibility scanning options
Choice of Spectrum24 or Spectrum One wireless networks, or batch communications
Extended memory options
Year 2000 Compliance
Palm Pilot
SPT 1700 Rugged Terminal
Memory Scanners
PDT 6800 Series Portable Data Terminals
Spectrum24®
LS4000 Series Scanner
LS9100 Omni-Directional Scanner
---
Data ID Systems, 20 South Santa Cruz Ave. Los Gatos, CA 95030

Copyright ©1997, 1998, 1999 Data Identification Systems All Rights Reserved

Last modified: March 21, 2006