Spectrum24® High-performance Wireless LAN
Technology that transforms data into strategic advantage.
This high-performance, wireless LAN bridges the workplace
Portable terminals and laser scanners, laptop and fixed-mount computers...these tools capture and compute the information that drives operations, increases productivity, and creates competitive advantage. Imagine sending data-intensive files- sales information, transaction records, progress reports-quickly, accurately and wirelessly to your host computer. Then imagine your host computer dispatching instructions, updates, work orders and more, quickly, accurately and wirelessly back out to your workforce.
Spectrum24®, the high-performance, wireless LAN, places information where it needs to be, in real time: on the retail or shop floor, in the warehouse or distribution hub, the manufacturing line or back room. With a commitment to open standards at every software and hardware interface, Spectrum24® is compatible with your current network technology, while ensuring seamless integration of future application tools. Plus, Spectrum24® supports the IEEE 802.11 standard for wireless LANs.
Spectrum24® is a strategic technology that empowers you to lead in industries as diverse as retail, transportation and logistics, healthcare, education, manufacturing, and many others. And it's brought to you by Data ID Systems, partner in wireless LAN and data capture technology. We understand how important your strategic vision is to the future of your enterprise in today's demanding business environment. All too often, however, what you see lies beyond the reach of ordinary information technology. Data ID's innovative products, industry systems expertise and national support overcome those boundaries.
Wherever there's data, Spectrum24® can transmit it in real time
Spectrum24® wireless LAN communications technology keeps information and industries on the move. From factory floor to trading floor, Spectrum24® is the high-performance choice for data-intensive applications like these:
---
The wireless store-it's redefining retailing. With Spectrum24®, scanning and portable computing go wherever required to capture data and communicate it-allowing today's Just-In-Time, Quick Response and Efficient Consumer Response philosophies to be implemented effectively. Using wireless communications, today's leading retailers don't just answer customer demand-they anticipate it.
---
Transportation companies needing flexibility, dependability and mobility for everything from tracking shipments to capturing signatures will find that Spectrum24® wireless communications provides the freedom and the information to go wherever the goods go. Wireless communications also supports the needs of weigh stations, loading docks, garages and other remote locations.
---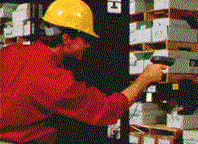 From receiving to picking, packing and shipping, wireless communications is revolutionizing the warehouse. It's dramatically increasing mobility, accuracy, speed and overall productivity. Rugged, durable wireless devices go to where tethered devices can't - to the point-of-activity. With Spectrum24® paper-based systems are obsolete in an environment where a PC calculates orders and downloads picking and packing assignments in real time to warehouse personnel.
---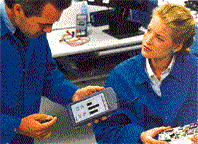 In manufacturing environments as diverse as a steel mill, auto assembly plant and packaged goods processor, wireless communications via Spectrum24® is tracking WIP and finished goods inventory, forging a link between warehouse and assembly in JIT applications, and providing links to higher level systems, including Manufacturing Requirements Planning and Warehouse Management Systems.
---
Performance counts on Wall Street and on Wall Street they count on Spectrum24® performance. The American Stock Exchange chose Spectrum24® and hand-held terminals for real-time information exchange on the trading floor and instant access to back office information. Spectrum24®'s high throughput and interference immunity within crowded confines were key, along with its ability to increase capacity.
---
The Spectrum24® wireless LAN consists of hardware and software components that integrate seamlessly with wired environments. A complete solution, Spectrum24® includes access points, connectivity software, LAN adapters and management tools. One-piece PCMCIA and Industry Standard Architecture bus cards install in terminals, laptops, point-of-sale and other devices for quick, easy and seamless connection to the Spectrum24® wireless LAN.
Spectrum24®: High-performance, high-throughput wireless LAN technology for today and tomorrow
Spectrum24® responds to today's mission-critical data management and communications needs. A high-performance wireless LAN, supports the Institute of Electrical and Electronic Engineers (IEEE) 802.11 standard for wireless LANs.
At one time, wireless LANs were largely proprietary. Today, however, users are moving rapidly to embrace open standards for all types of applications. Symbol's support of the IEEE 802.11 standard for wireless LANs "futureproofs" your wireless LAN investment and enables your organization to maximize, integrate and expand its technology investment: Diverse application tools and equipment can communicate over this high-performance wireless LAN, Spectrum24®.
A spectrum of benefits
Spectrum24® features ease of installation, seamless roaming, high throughput, expandable capacity and superior interference immunity. Data ID's commitment to open standards at every software and hardware interface makes Spectrum24® ideal for applications where mobile communications and real-time data access are essential:
Data-intensive terminal and laptop transactions
Client/server computing
Graphics-oriented and other data- demanding applications
Using frequency hopping spread spectrum cellular technology, Spectrum24® is designed to operate within the 2.4 to 2.5 GHz frequency range set aside by many governments for data communications in the U.S., Europe and Japan.
Access points transmit and receive data-providing a wireless bridge between terminals and other devices and your wired network.
Spectrum24® works seamlessly with all popular host environments including Novell IPX, UNIX, Windows NT and TCPIP.
The fast, 2.0 Mbps access point data rate is ideal for high-volume data transmission to and from the host.
Spectrum24®'s open standards commitment allows seamless integration among diverse application tools.
Spectrum24® access points attach to the Ethernet network to bridge the wired network to the radio network.
Data ID offers a wide range of data capture devices equipped to communicate over the Spectrum24® network including mobile terminals equipped to support wireless printing.
Spectrum24® bridge architecture uses PC cards, adapters, NDIS, ODI drivers, terminal emulation and standard protocol stacks for communications with access points.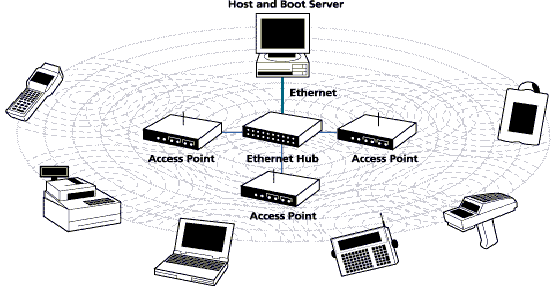 Communications architecture
Based on a simple bridge architecture, Spectrum24® provides transparent wireless connection to an Ethernet LAN through multiple access points. The full cellular network supports seamless, instantaneous roaming with load balancing. Remote stations communicate through either a one-piece PCMCIA adapter with attached antenna or through Industry Standard Architecture (ISA) bus cards. Each adapter is equipped with industry standard Network Driver Independent Specification (NDIS) and Open DataLink Interface (ODI) drivers, and access points are compatible with the Simple Network Management Protocol (SNMP).
Spectrum24®supports the IEEE 802.11 standard for wireless LANs, and supports both line-powered and battery-operated terminals. In Power Save Polling mode, the PCMCIA adapter draws less than 30 mA, maintaining full battery life of the host laptop or hand-held computer.
Integrates seamlessly
Spectrum24®'s commitment to open standards at every hardware and software interface allows seamless integration into existing wired networks. Just replace the NIC in a laptop, desktop or hand-held computer with Symbol's Wireless LAN PC Card or adapter and update the drivers. Mobile units communicate to high-throughput access points, providing a "wireless Ethernet" connection to your wired LAN. Plus, seamless roaming among network cells translates into virtually unlimited flexibility, making it easy to serve hard-to-wire locations and enables workstation relocation.
Advantages of frequency hopping
Frequency hopping is a modulation technique that offers a high-capacity network by using multiple access points within large or small environments. Each access point, which connects to the wired LAN backbone, executes a unique hopping pattern across 78 non-overlapping frequencies. The table of 66 hopping patterns specified in the IEEE 802.11 standard minimizes the probability that one cell operates on the same frequency at the same time as another cell. The result is access points operating at 2 Mbps without interruption-even when in close proximity to one another. Plus, access points can be added to expand capacity in the same geographic area as well as to extend range.
Spectrum24®: Data ID Support
Data ID offers a complete range of service capabilities to support your Spectrum24® wireless LAN and the mission-critical applications it runs. From systems consultation to installation and ongoing maintenance and support, Data ID Systems is committed to your choice in Spectrum24®, the wireless LAN for today and tomorrow.
Palm Pilot
Memory Scanners
PDT 6800 Series Portable Data Terminals
Spectrum24®
LS4000 Series Scanner
LS9100 Omni-Directional Scanner
---
Data ID Systems, 20 South Santa Cruz Ave. Los Gatos, CA 95030

Copyright ©1997, 1998, 1999 Data Identification Systems All Rights Reserved

Last modified: March 21, 2006